Welcome to HWB®
Hidden Wall Bed®

your hidden bed experts since 2009
trusted by more than 500 clients
Our Opening Hours: Mon to Sun 8:30am to 4:00pm
(Including Weekends and Public Holidays)
If you are dropping by our showroom on weekdays (Mon to Fri),
give us a call at 6467 1101 first before you drop by as we might be out onsite.
By Appointment Only
As Seen on Television in 2013
As Seen on Television in 2014
Hidden Wall Beds
The H and V-Series offer a simple solution to maximize your home space in an elegant and fashionable manner. The secret of our hidden wall beds lies in their patented hinges. The patented hinges enable our wall beds to be neatly open down, folded and hidden away during the day for more air and space but expanded and unfolded to give you a soft and comfortable wall bed during bedtime. Both our adult-size and children-size beds are also fully customizable to any ceiling height.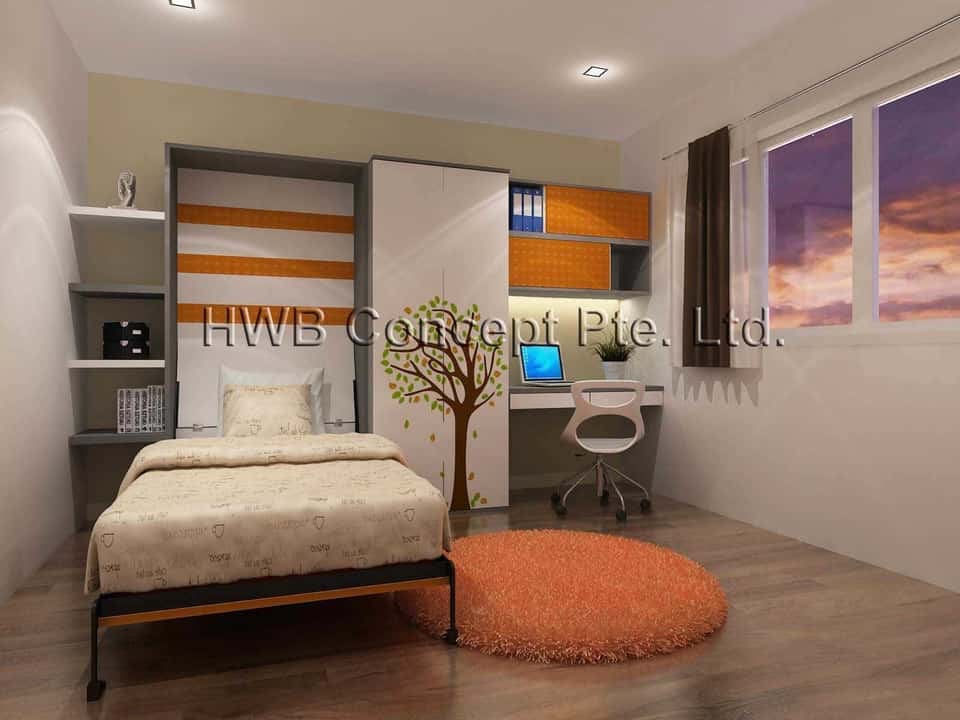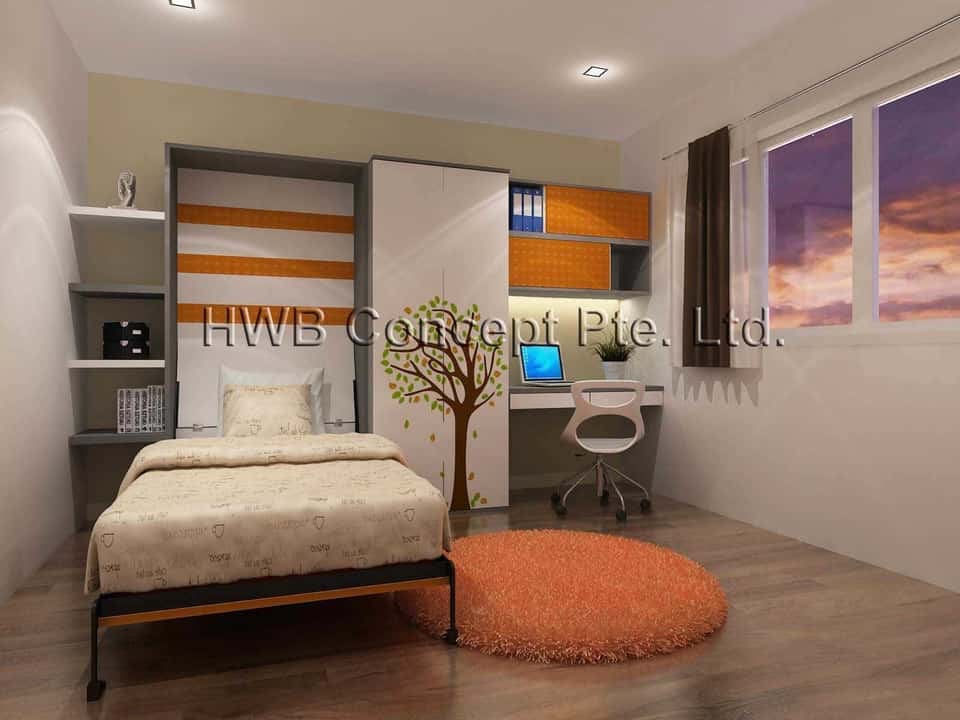 Revolutionary Wall Beds
Lending a bright, airy and spacious look to even the most modest HDB homes, our wall beds effortlessly fold into an attractive, seamless wall unit.
Adjustable and customizable to fit any shape, size and decor of home, our revolutionary wall beds are the perfect choice for HDB and apartment living in Singapore. Browse our range of sofa beds, bunk beds, and single and double deck beds for both adult and children of all ages today. Click on the button below and discover space you never knew existed for a new showroom-worthy apartment!
Trademarked HWB® Beds
Want a showflat-worthy and Pinterest-inspired apartment like those like those seen from the HDB hub showroom?
HWB® beds are the best low-cost and space-efficient solution for a comfortable night's rest without compromising room space. Our cleverly designed single and double deck bed units are perfect for everyone and everywhere.
Moreover, all beds and bed heights are customizable and adjustable to suit your room, your home and your needs. Flexible, portable and open to all adults and children, HWB® beds are a versatile, multi-functional and essential furniture for the contemporary living space in Singapore today. HWB® beds are also a must-have to maximize the space of your living room and double-up as a guest bed.
Did you know that HWB® beds can also accommodate a variety of mattresses? Read more about the advantages and benefits our wall beds could bring to your life here.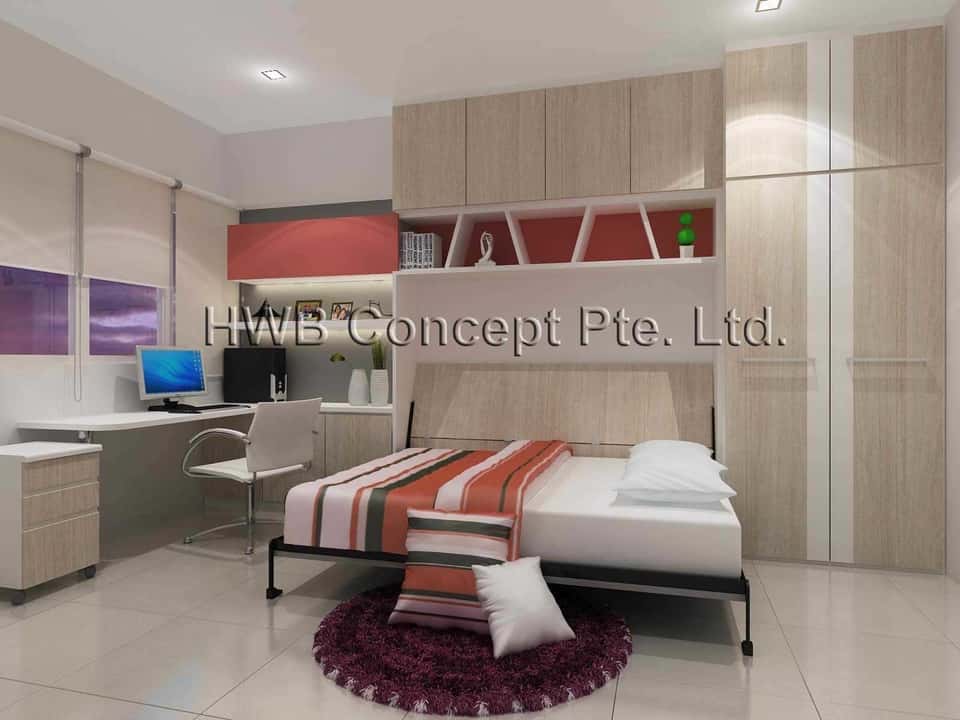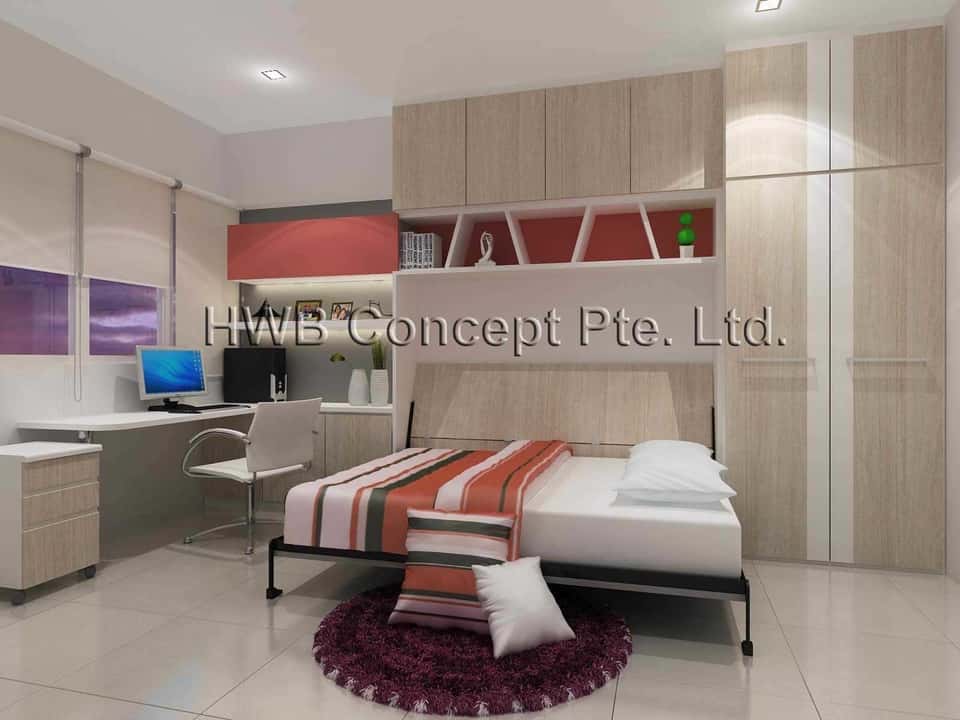 Hideaway Murphy Beds
Ever wondered how you can save more space in your bedroom? Need that little bit of extra space for your computer desk or sofa chair?
Having a Murphy bed ensures that you can have that bit of extra space for your bedroom.
As new HDB BTO Flats are getting smaller and smaller, having a Murphy bed will ensure that you never have to worry about the lack of space ever again. Check out our Murphy beds by clicking on the button below!
Top 9 Reasons Why You Should Choose Hidden Wall Bed
0% Installment for 36 months
Hidden Wall Bed offers up to 36 months of 0% installment for Standard Chartered credit cards.
Hidden Wall Bed accepts credit cards from AMEX, VISA, MASTERCARD, Union Pay & JCB. 
Lifetime Warranty
We provide lifetime warranty on the mechanisms for your hidden wall beds.
When we help you install your hidden wall bed, we are confident that our patented technology will be able to support you for no less than a decade.
Lift Our Beds With 1 Finger
You can lift our bed with a single finger. That is how light our bed is.
Don't believe us? You can view a video of the 1 finger lift here.
Supports Heavy Weights
With our patented technology, our bed can support heavy weights.
Don't believe us? Click here to view how our bed can support a 80kg man jumping on our bed. 
Save More Space
You can save way more space by hiding away your hidden wall bed.
When you need not use the bed anymore, you can hide it away simply by using the hiding mechanism. 
Prevents Dust
Now that you can finally retract your bed when it's not in use, your bed will stop collecting pesky dust.
Your house will be sparkling clean with our hidden wall beds.
Prevents Bed Smell
With our Catch Holding Point technology, you can air your bed to prevent bad smell. By placing the bed at about 80 degrees, the bed can remain in that position to ensure that you can air your bed.
Trusted by more than 500 clients
We have successfully completed projects for more than 500 customers. Be it HDB projects or Condominium projects, we have done it all. Check out our videos of more than 500 projects here.
Anti- Slam Technology
You can open HIDDEN WALL BED® at any angle and it stays in that position/angle when hands-free. Even at 20 to 30 degrees from the floor, the bed still holds and will not slam and damage your floor.
See what our customers say about us
Ronnie from Hidden Wall Bed has been really helpful. He has a lot of patience in explaining how the Hidden Wall Bed will work and function.
After dropping by at their showroom at Beauty World Plaza, I am very impressed that the bed can be lifted by using a single finger. It is lightweight and really ideal for people of all ages.
I would strongly recommend Hidden Wall Bed to anyone who is looking to save more space for their home.
Jim Ng
After reading good reviews from others. I went down personally with my family to check it out. Is really true. Is very safe for elderly & which my 6years old boy try it. It's true that can hold any position when your hands are not holding the bed & we can lift up the bed with one finger. Another good point I like is the airing positions to prevent sweat smell. Compare others wall bed I try it last week it's cannot hold & no airing positions.
Shergill Karan
I appreciate HWB hidden wall bed for a good after-support sale service. As part of their routine service support, they called me to ask if the bed is in good working condition and meeting my needs. FYI – I bought HWB bed 2 years ago and is still functioning very well !
The bed is for my daughter and she is very happy with the HWB bed. In fact, she had introduced it to a few of her classmates and I understand her classmates also bought from HWB and are happy with the products.
With the recent completion of new MRT line, HWB hidden wall bed showroom at Beauty World Plaza(just outside beauty world MRT station) is now so easily accessible. You can go and check it up for yourself on this product for its good functions and I must stress its safety feature that even a small kid can lift and close the bed when he gets up. It has airing points to air the bed to prevent any odour after a good night sleep. I understand most wall bed do not have any airing point feature.
Ssone Tan
Check out our gallery of Hidden Wall Beds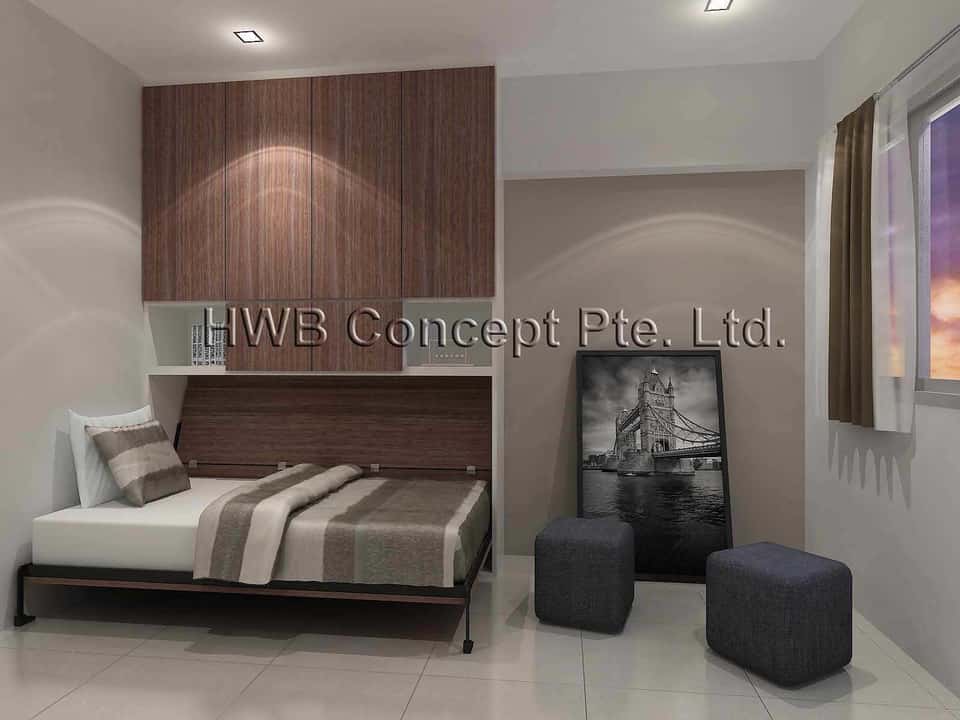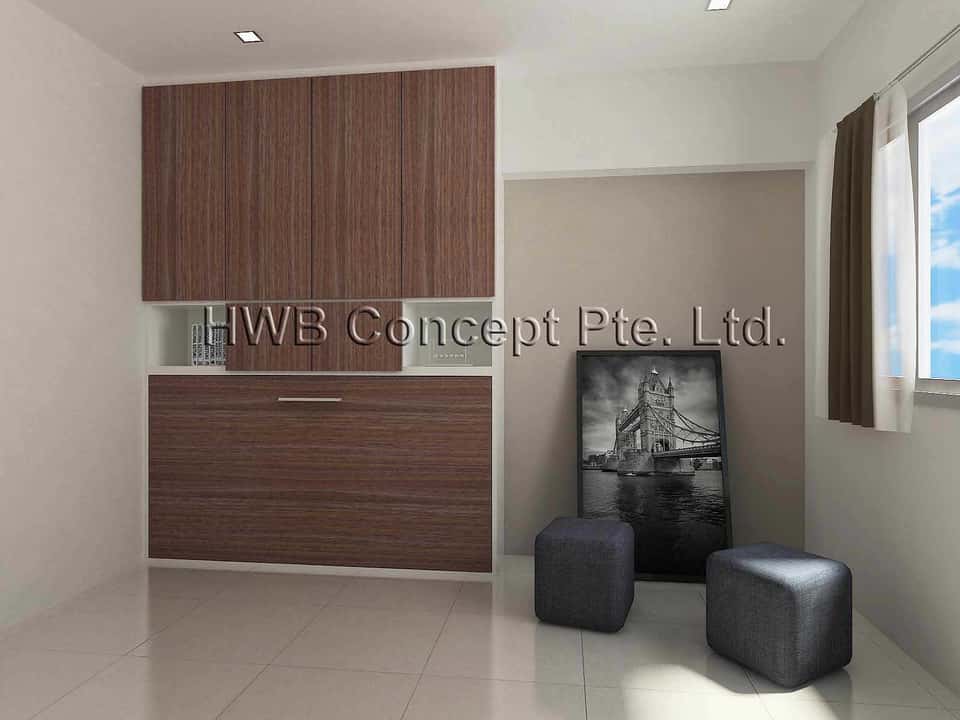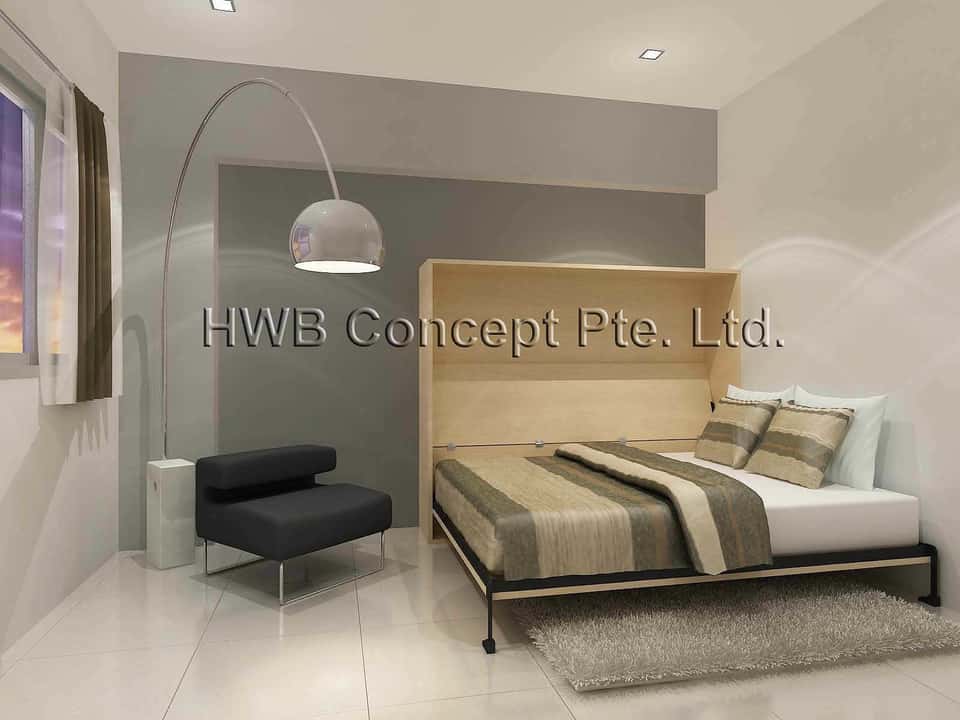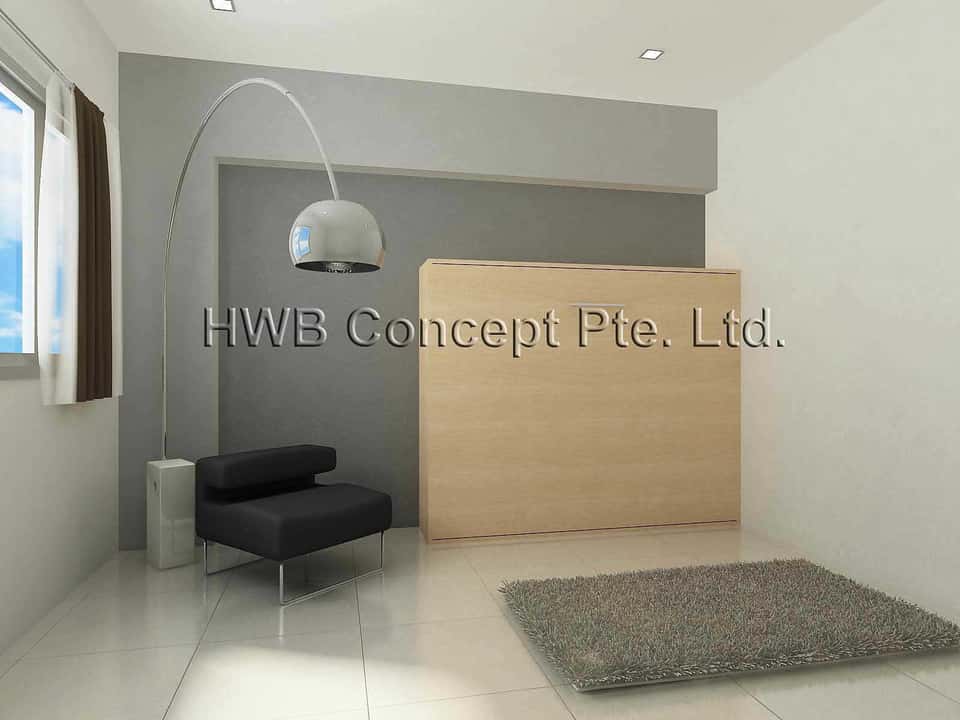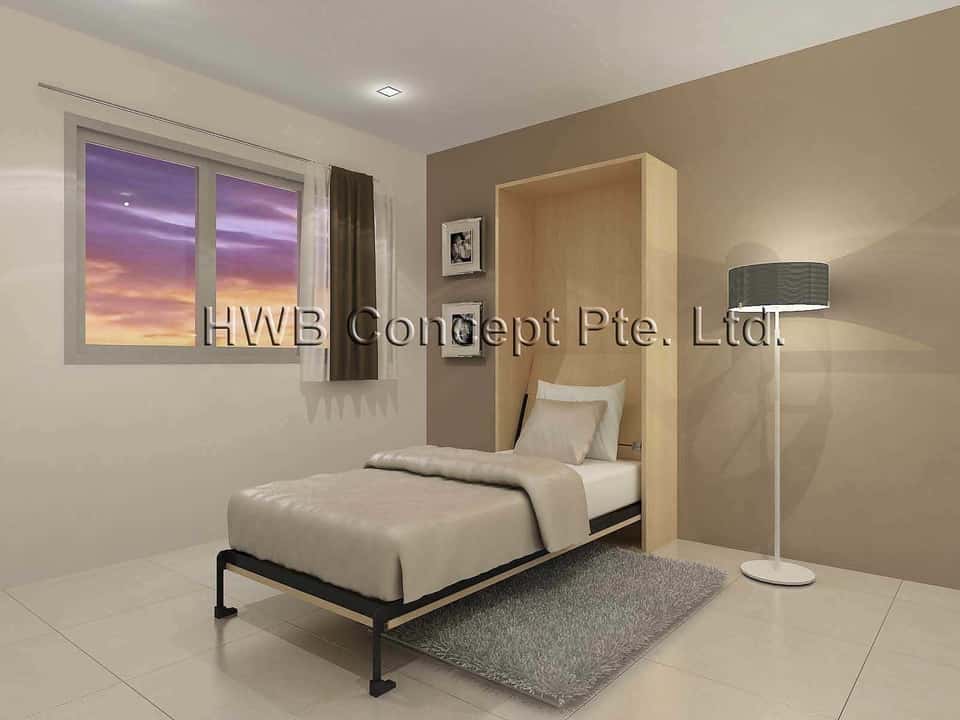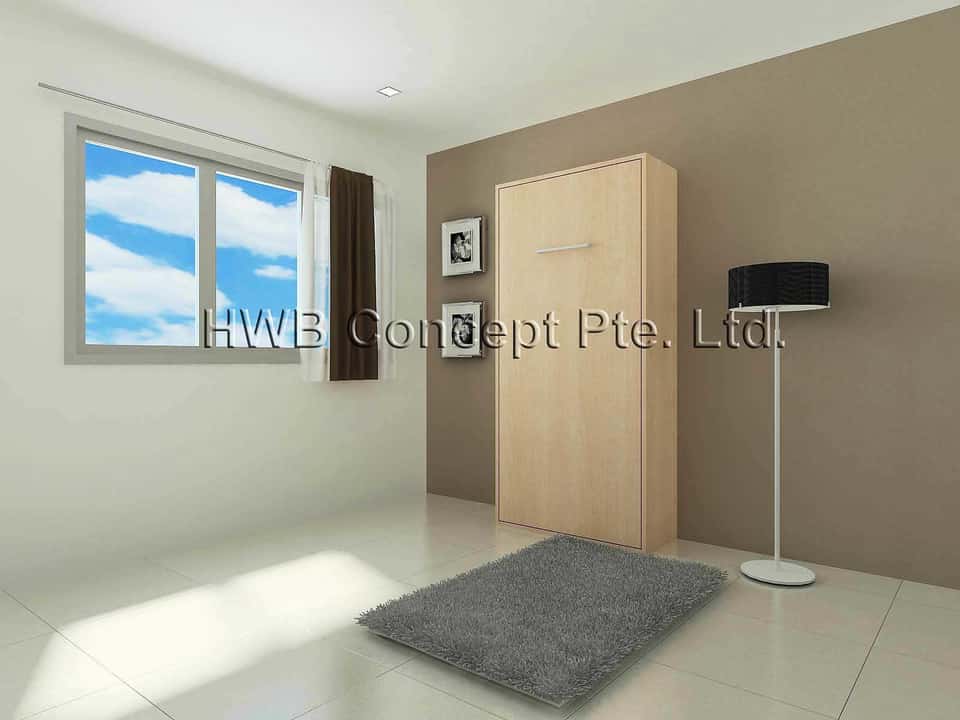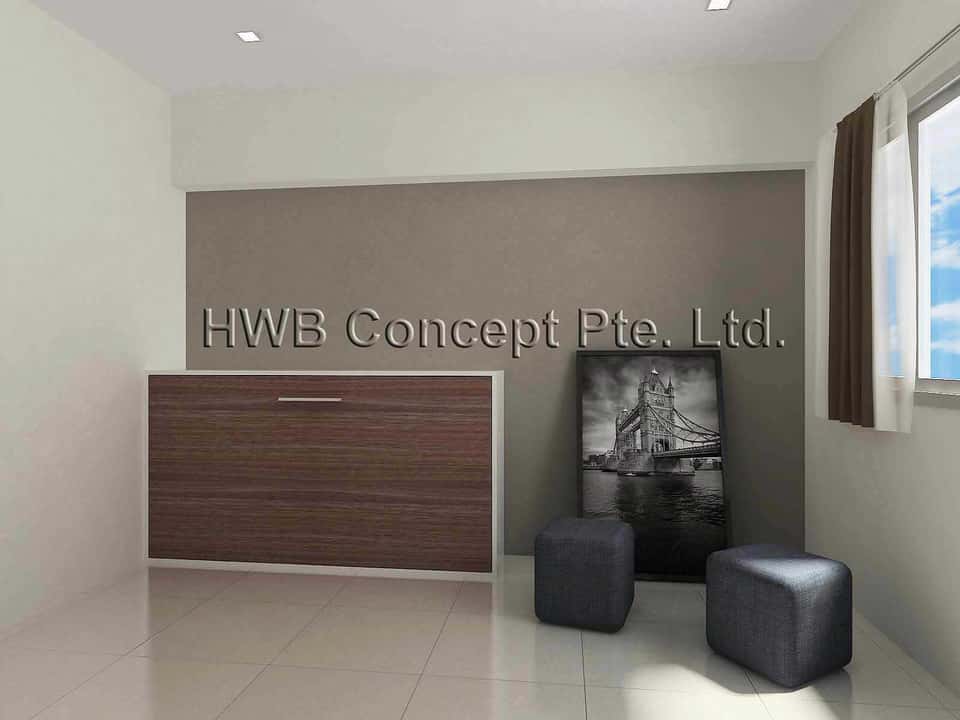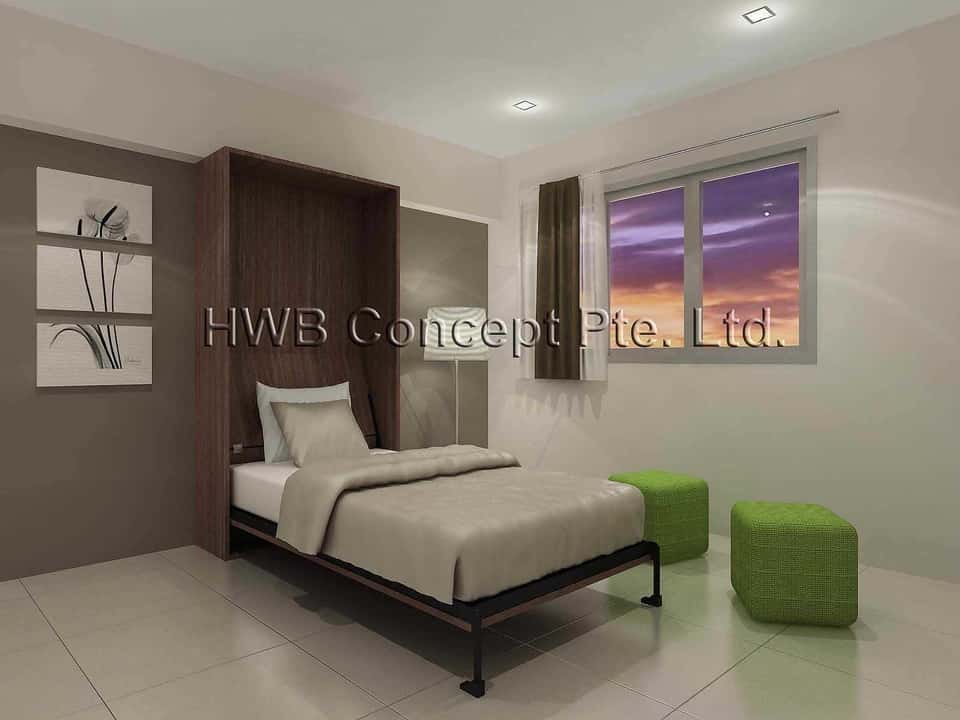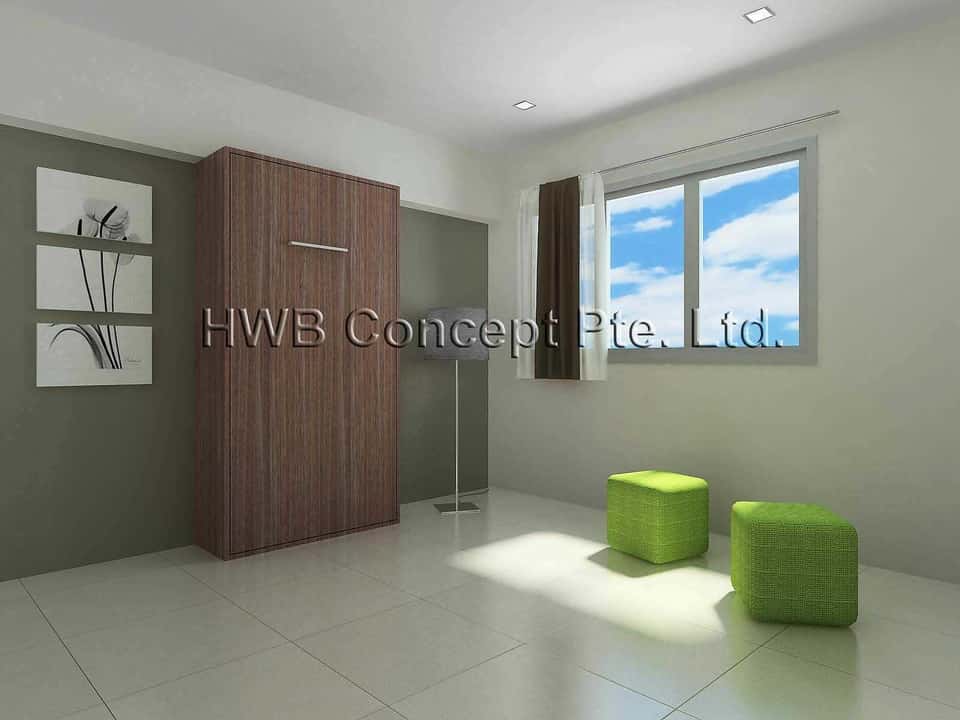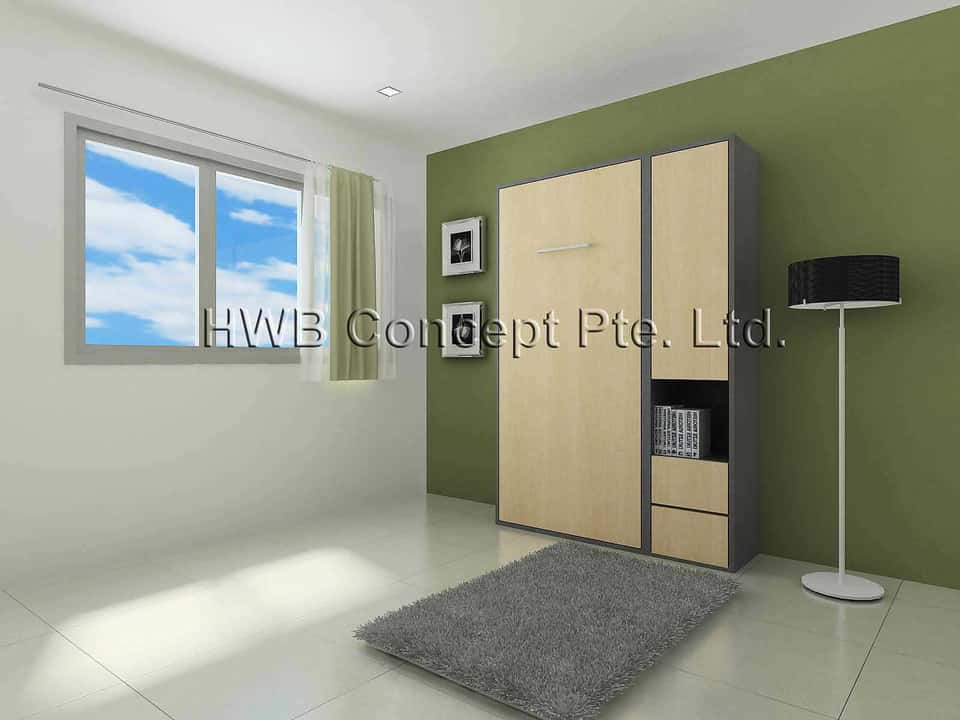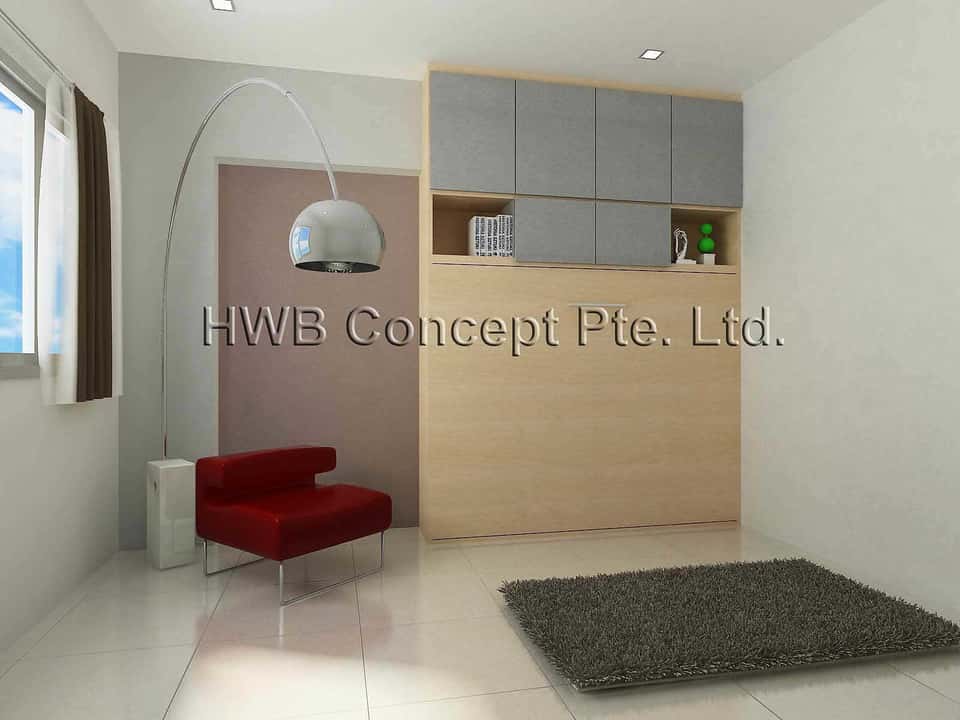 View Our Successfully Completed Project at Hillion Studio
Top 3 Tips to Selecting A Space Saving Bed
Certified Wall Bed
The level of the foldable bed must be of certified quality level. HWB® takes pride in our unique patented technology for our exclusive foldable beds.
All our products undergo stringent quality control at the HWB® warehouse – where they undergo meticulous inspection and careful supervision to ensure all foldable beds are of superb quality.
We take full responsibility to ensure that all our products retain their excellent and exceptional quality.
Ensure Experts Are Installing Beds
When buying a Hidden Wall Bed®, one must also consider the end-result. Our skilled team of experts at Hidden Wall Bed® will safely and carefully construct your own foldable bed in no time.
Reasonable Pricing
Our reasonably priced hidden wall beds, installation services, and customer service are of top quality with a portfolio to prove it! When selecting a new hidden wall bed, one should always remember that money does not always buy quality.
Choose HWB® for the best value for money hidden wall bed today!
Disclaimer: Hidden Wall Bed® Is a Registered Trademark Brand
THIS IS A PATENTED TECHNOLOGY. POSSESSION OF INFRINGED PRODUCTS IS ILLEGAL AND WILL BE LIABLE TO OUR LEGAL ACTION.
HWB® & HIDDEN WALL BED® IS OUR REGISTERED TRADEMARK. USAGE WITHOUT PERMISSION OR CONSENT OR AUTHORIZATION IS ILLEGAL AND WILL BE LIABLE TO OUR LEGAL ACTION.
DISCLAIMER: THE INFORMATION AND MATERIALS ARE SUBJECT TO CHANGE AT ANY TIME WITHOUT PRIOR NOTICE.